---
---
Pubg Mobile emotes are really great and players enjoy them in the game as well as in the boys with their friends. But most of the emotes are paid and players can get them via battle pass or opening crates. Well, in this post, we'll take a look at the best places and how to get free emotes in BGMi-Pubg Mobile.
What is Emote
Emotes are prebuilt actions in any game that are made by the game developer itself to make players engaged with their friends via actions and to communicate. Emotes can be used in BGMI-Pubg Mobile while in the game (match) or in the lobby area.
How to Get Emote in BGMI-Pubg Mobile
Emotes are available in the game and can be collected by the players via battle pass or via opening the crates. Emotes are also can be collected via completing the character levels and collecting XPs.
Via Battle Pass
Every Royale Pass in BGMI-Pubg Mobile contains emotes that can be collected with or without upgrading the royale pass. Epic emotes are free in the royale pass and can be collected without upgrading and the legendary or mythic emotes can only be collected when the player upgrades the royale pass and completed the missions to increase the royale pass rank.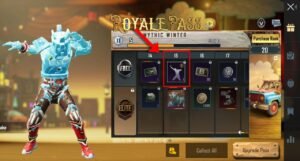 Via Character Crate
Pubg Mobile introduces various characters in the last few years and all these characters can be obtained via the characters vouchers. The character vouchers can be collected via events and daily challenges in the game. The character crates can be used in the game while using the same character with which the emote is relates to other characters as well.
Character crates can be open using character shard, and by opening, there are chances that the player may get the emote. Character emote can also be redeemed using UC.
Emotes are also sometimes available in the events in the game, and via daily challenges or redeemed by collecting the specific items in the game too.
Read More – How to Get Free Premium Crate in Pubg-BGMI?