---
---
Death Replay also called Death Cam is a newly introduced feature in the Pubg Mobile or Battlegrounds Mobile India mobile game. The feature is introduced to aware the player about how they died in the match and what mistakes they should avoid. It also gives an idea of the opponent's skills. This post is a guide to turn on the death cam or death replay in Pubg Mobile-Bgmi.
What is Death Cam or Death Replay
The Pubg Mobile 1.6 update brings the death replay feature in the game, now both Indian and global version of the game has the death replay feature. Earlier the death was only available in the Chinese version of Pubg Mobile also known as Game For Peace.
As the name suggests the death replay shows the death of the player in live-action with the opponent's POV. The death cam record about 30 seconds clip of the opponent or enemy who finished the player.
The death replay is introduced to aware players of their mistakes and improve them. Death cam also gives an idea of the enemy team's skill and game sense. Sometimes it also helps to spot hackers and cheaters in the game. Death cam can only be used after the player or player team is eliminated completely from the match.
Death replay is only available for some device models and can only be used in classic or arcade matches.
How to Enable Death Replay in Pubg Mobile
By default the death replay feature is disabled in the game, the player needs to toggle it on in order to use it. Here's how to turn on the death replay in Pubg Mobile/Battlegrounds Mobile India.
Go to the game settings.
Click on control>advanced controls, scroll to the bottom, and there enable the death replay.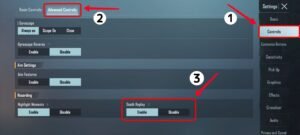 How to Get Your Death Replay in Pubg-Bgmi
After enabling the death replay or death cam from the game setting, start a classic or arcade match.
Once you are dead in the game, you can see your death cam by clicking on the "death replay" button.
Read More – How to Turn on Gyro in BGMI-Pubg