---
---
There are a lot of legendary items in Pubg Mobile or Battlegrounds Mobile India. But getting them is not that easy for any player. Here we are sharing some tricks and rules to open the premium crate so that there would be guaranteed legendary items.
Premium crate
Premium crate in Pubg Mobile or BGMI is the crate that has several types of items like mythic, legendary, epic and so. Players can open this crate using the premium crate coupons or by spending UC. But there are very less chances that the player would get any mythic or legendary item from the premium crate.
But here is a rule made by Pubg itself which would help you to get at least a legendary item from the premium crate.
How to Get Premium Coupons For Free
The premium coupons can be obtained for free by completing some missions on the game. You can refer to the mission section to see what mission you are running on and what else are left to complete.
By completing the mission you will get some premium crate coupons or coupon scrapes.
How to Redeem Premium Crate Coupon scrape in Pubg Mobile
The player can use silver fragments to redeem the premium crate coupon scrape in Bgmi or Pubg Mobile.
To redeem player must have to go to the shop section in the game.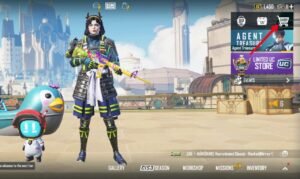 Now Click on the "Treasures" option. Scroll down to the bottom and their player have the option to redeem premium crate coupons or classic crate coupons.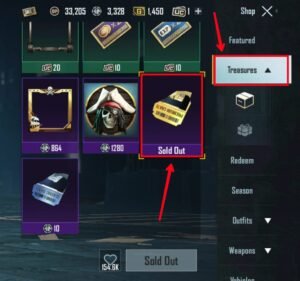 When the player collects the coupon scrape he can merge 10 scrapes to create one premium crate coupon that he late user to open the premium crate.
After combining the scrape coupon the player can go to the premium crate and open the crate. But the player should open at least 10 crates to get the legendary item from the premium crate.
How to Get Guaranteed Legendary Item From Premium Crate in Pubg Mobile
Legendary items from the premium crate can be obtained by meeting some conditions while opening the premium crates.
What you have to do is when you are opening the crate you must have to open at least 10, 20 or 30 crates at once. Doing this will increase the chance of getting at least one legendary item from the crate. As you open 20 crates there would be at least 2 legendary items and the same thing happens with 30 crates, there would be at least 3 legendary items you will get if you open 30 crates at once.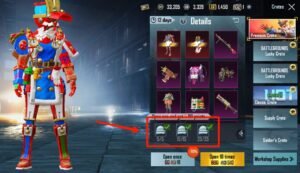 Read More : How to Fix Buy UC in BGMI