---
---
Speed of the Internet matter, and when we work on Windows we need to take an eye on the data speed. Well if you also want to show the internet speed on the taskbar on your Windows computer. Then here is the complete step-by-step guide.
Internet Speed on Windows
By default, there are no such options available in the windows setting that can show the internet speed. To do so, we need to install a tool called "Net Speed Monitor" which is a free tool and available for 64 and 32 bit operating systems.
Though if you wanna see the internet speed without installing any software/application on your desktop or laptop device, then you can go to the task manager, and there you have the network speed info and that will also show which app is using more or less and how much.
How to Show Internet Network Speed on Taskbar in Windows
A tool called Netspeedmeter will be needed to show the network speed on the Windows taskbar. The tool is free and can be downloaded from here. But before installing we have to do some changes, here is the guide.
Download the Netspeedmeter software: 64-bit / 32-bit
After downloading, open the download folder and right-click on the setup (.exe) file of the tool, and go to properties.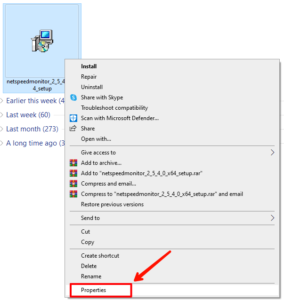 Now go to the compatibility section and check the "run this program on compatibility mode for". Don't change the default windows version.
Once this is done, install the setup file now. Installation is simple.
After installation completes, right-click on the taskbar and go to toolbars and click on the netspeedmeter.
The network speed tab will now be placed on the taskbar. But it may not show the data speed, we need to configure it further to make it work well. Here's how.
Right-click on the netspeedmeter tab from the taskbar, and go to the configuration option.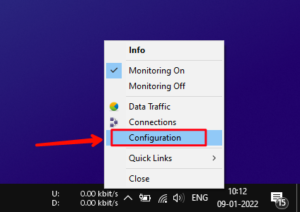 Now on the "network interface" drop-down menu select the module that is installed on your computer. If you don't know the module or driver name then select them one by one and click apply, and notice on which the speed will start working.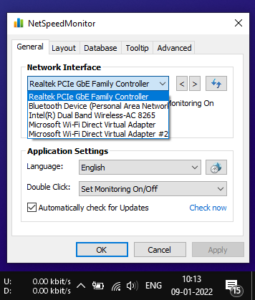 You can further configure more options there like fonts, language, double click action, layout database, and more.
This was a quick guide to show the network (Internet) speed on the Windows taskbar. If you have further queries and questions on this or other topics, then don't forget to leave a comment below.
Read More – How to Hide Files and Folders in Windows Without Any App?