---
---
Windows recently added the news and interest tab in the taskbar. This basically shows you the weather reports and local and international news based on your interest when the user hovers on it. But if you want to disable it for any reason, then you can remove it from the taskbar. Here's the guide.
The news and Interest tab can be useful for the user who wants to be get updated with the local as well as international affairs and headlines. But for some users, this can be distracting and can interrupt the work while they are working with the taskbar. Well, windows have given an option to disable it that we gonna talk about.
How to Disable News and Interest From Windows Taskbar
Here's how you can remove or disable the "news and interest" tab from your taskbar in Windows.
Right-click on the taskbar, and click on the New and Interest option which will be third or fourth from the top.
Now a sidebar tab will get open, from there click "turn off" to disable it.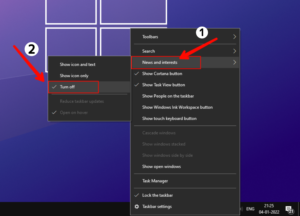 And if you want to show the new and interest tab again on your computer taskbar then do the same and select the "show icon only" or "show icon and text" option.
Read More : How to Fix Start Menu Not Opening Glitch on Windows