---
---
Sometimes we need to restart Windows Explorer for various reasons like fixing or debugging the visual-related issues in Windows or fixing other issues like the start menu not opening and so on. Here we'll get the step-by-step guide to restart Windows Explorer on your Windows Computer or Laptop.
Windows Explorer
Earlier with the origin of Windows, windows explorer was referred to as a file manager, but it's more than that now. The Windows Explorer can be said as the whole UI of the Windows system. From exploring files to all options that you see like windows icon, search bar, taskbar, and more all are part of windows explorer.
Users may confuse between file explorer and Windows Explorer but they are completely different. File Explorer is a part of Windows Explorer which is used to display the files and folder on one's PC.
How to Restart Windows Explorer
Right-click on the taskbar and open the "task manager".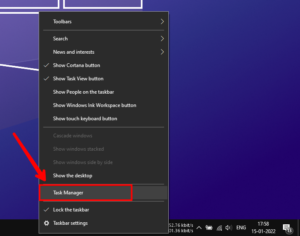 A new window will appear, expand it by clicking on "more details". Now it will show all the applications and programs running on your PC.
Now, look there for "Windows Explorer" and right-click on it, then click on restart.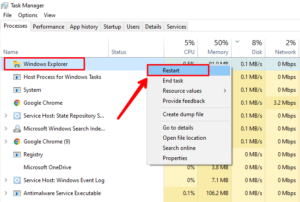 The windows explorer will now be restarted, which may result in collapsing the Windows UI, but don't panic it will soon get started again and get fixed.
Read More: How to Hide Files in Windows?