---
---
Valiant's new Act 4 with a new episode arrived with the new agent Neon, new battle pass, fixes, skins, and weapon modifications. The new battle pass in episode 1 is quite good and has some interesting items in it, one of the player-favorite dagger types – Velocity Karambit is also here at the battle pass level 50. Here is the overview of the 'Velocity Karambit' with pictures and videos.
Velocity Karambit Overview
The 'Velocity Karambit' dagger is like the just-kust like the 'Prime Dagger' in Valorant. Though it's not the 'Prime Dagger', but visually it's much similar to it. The Velocity Karambit dagger has a different color than the 'Prime' with no animation and kills animation. The Velocity Karambit has 4 colors that players can unlock through the radianite points.
Velocity Karambit Colors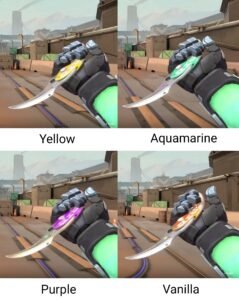 Velocity Karambit Animation
Velocity Karambit Third-Party View
Velocity Karambit Inspect Weapon
Video Source – Youtube