---
---
Valorant is a popular PC game where users can compete with other players. Sometimes the player needs to log out or sign out of their account in the game. If you too are about to sign out of your account from the Valorant the here is the step-by-step guide and details.
Valorant Sign Out
Sign out option is available in Valorant using which players can log out of their account. Once logout, the player will get redirected to the login page where the player can re-login or sign in again. The player can also log in there from another account or the same one.
How to Log Out in Valorant (Latest 2022)
From the Valorant home screen, click on the setting icon at the top-right.
Then click on the "exit to desktop" from the popup menu.
A new popup will appear asking you to "Exit" and "Sign Out & Exit", click on the "Sign Out & Exit" button to log out of the game.
As you click the "Sign Out & Exit" button, you will be signed out of your account in Valorant, and the game will be closed. To login again you will need to open the Valorant game again and it will now show you the login screen from where you can re-sign the same or other account as well.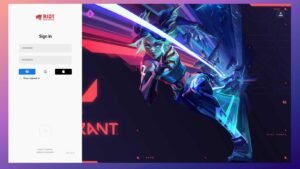 Why Log Out in Valorant
Players need to log out from Valorant for various different reasons like re-login, sign in from another account, sign problem fix, update the game manually, or others.
Read More – How to hide Account Level in Valorant