---
---
Valorant with new act brings a lot of new items and skins in the game. Along with them Valorant also brings several cool animations that look awesome and players want to download and set them as live wallpaper on their PC and laptop. Well, here we have made a guide on how you can get the Valorant animation in MP4 video format on your Windows PC.
Valorant Animation
Valorant animation keeps changing and Riot adds new animation in every act and episode, highlighting the main elements and agents. The home screen animation is quite good if the player is interested to save it and set as wallpaper.
Valorant animation is already saved on your PC in its game data location, you just need to navigate there and copy it. The animation is smooth with no lag and the highest possible quality based on the player's PC resolution. Here's the step-by-step guide to extract and save the Valorant animation on your computer.
How to Extract Valorant Animation
Navigate to this location on your PC-
C:\Riot Games\VALORANT\live\ShooterGame\Content\Movies\Menu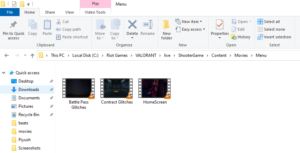 C:\ denotes local disk C.
There you will find the home screen animation in video format along with several other animations, copy them and paste them somewhere else on your PC. You can later play them using any video player and also set them as live wallpaper on your Windows computer or laptop.
Video Guide –