---
---
Want to know your Riot ID in Valorant? Players need to know their Riot ID, to make third-party payments like from Codashop to get VP. Here's how to know your Riot ID in Valorant.
Riot ID
Riot ID is the identity of the player for all the Riot games including Valorant, League of Legends, etc. Riot ID is common for all the games that players used to sign in with their Riot account. Riot ID includes the player's in-game name and the tagline.
Why Know the Riot ID
There may be various reasons why the player wants to know its RIot ID, but the most common is to tell their friends so that they can add them to the game and play together. And the other one is for third-party payments to get in-game items like Valorant Points for Valorant.
 Read More – How to See Your Change Country and Region For Riot Games (Valorant)
How to Know the RIot ID in Valorant
To know your RIOT ID in Valorant, follow the below steps:
Open the game, now from the home screen open the sidebar friends list.
There on the top, you will see your profile, hover on it to know your Riot ID including the in-game name and tagline.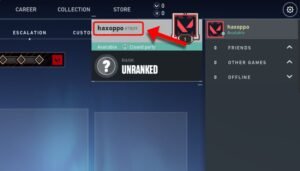 How to Use Riot ID
Let's say these are your Riot ID includes in-game name and tagline.
Player Name – AbCdEf
Tagline – #1234 or #XyZ
Where you are using your Riot ID, fill the name text box with your in-game name, and for the tagline use #YourTagline. If there is no separate place to type the name and tagline then merge both of them as your in-game name + your tagline like- AbCdEf#1234.
Read More – How to Logout in Valorant