---
---
For Valorant esports and professional players, it could be mind-blowing to know their overall annual performance in the game. The game developers have brought the annual stats reports that are being mailed to the players every year, reporting how they played the matches and how they had performed. Well, if you want to get these statistics mail from Riot games then here is the guide to enable it for your Valorant Account.
Valorant Year in Review Stats
Valorant started these emails the last year reporting the player about their performance in the game which includes a wide range of information like player KDA, damage, won matches, headshots, and more including revives, dodging, the unfamiliar agent picked, etc.
These stats will help the player to understand their playstyle and gameplay so that they can manage to play and choose which agent is best for them and how they can improve their game. The year 2022 will be the second year for Riot to provide these stats to the player and they have added more to them this year.
Stats including deaths to spike, the number of overtime matches are now available in the second year. Now the question comes that how players can access this information and stats via Riot games. Well, that is simple and to enable this below is the guide provided.
Read More – How to Save Valorant's Home Screen Animation
How to Get Annual Statistic Reports (Mail) from Riot Game
The player will receive the annual reports for all Riot Games if available including Valorant and League of Legends.
1. Log in to your Riot account from here.
2. Jump to the "communication preferences" tab, and check the "communication from Riot Games" box.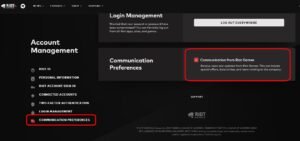 Now Riot games will send your statistics reports to your linked mail address.
Read More – How to Enable Two Factor Authentication inValorant and League of Legends