---
---
Codashop now offers Valorant players to purchase the Valorant Points in the game. Here are all the details about the pricing and a guide on how to purchase Valorant points from Codashop for Valorant.
Valorant Points (Codashop)
Players need to purchase the Valorant points in order to get new skins or daggers in the game. And to purchase the valorant points player need to spend money, which they can do with several methods. Valorant has about 4-5 payments methods to complete the payments for the Valorant points like debit and credit card, UPI, PayPal, and others.
Now in this list, Codashop is new. Codashop offers payment options for various games to buy an in-game currency or item. You may hear of the Codashop payments in games like COD, Pubg, Battlegrounds Mobile India, Free Fire, League of Legends, Steam recharge, and tons of other games too. Codashop also offers various direct top-ups for different game items for mobile games like Asphalt, World War Heroes, Moder Combat, etc.
Valorant Point Price (CodaShop)
Valorant players can buy Valorant points from the Codashop and even at a low price than the in-game payment methods for various bundles. Here's the list of the valorant points bundle and their prices in Codashop.
| Valorant Points | Price in Rupee |
| --- | --- |
| 500 VP | ₹ 449 |
| 1000 VP | ₹ 799 |
| 2050 VP | ₹ 1599 |
| 3650 VP | ₹ 2699 |
| 5350 VP | ₹ 3999 |
| 11000 VP | ₹ 7900 |
Useful – How to Know Your Riot ID in Valorant
How to Buy Valorant Points from Codashop
Go to the Codashop official site, and select Valorant.
And then enter your Riot ID. And then select the valorant points bundle payment method.
Now enter your email to receive a payment notification and click on buy now. Later complete the payment.
Don't worry if you had filled your Riot ID incorrectly it will show you an error like this.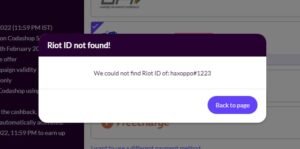 After completing the payment successfully you will receive the Valorant points on your account in a few seconds. And if you are facing any problem regarding payments in Codashop then tell us about them in the comments.
Read More – How to Buy Valorant Points Through PayPal