---
---
In order to change your account in the Pubg New State, you will need to log out and log in to the game. Using login out or sign out, players can log in with different accounts in the game on the same smartphone.
The Pubg New State game is here with the new future world of tech, weapons, vehicles based on the year 2050. The game is just like the Pubg Mobile or BGMI that are already present in the market.
The player can use several account IDs for Pubg New State on the same phone, and not only he can log in, but he can also play the game with different accounts. But before switching to another account you will need to sign out in the game from one account.
How to Log Out in Pubg New State
Sign out option is available in Pubg New State under the basic setting option.
Players can go to three dots>settings>basic. There they can fin the Sign Out button, which can log out the player's current account.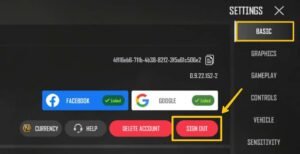 This is how you can sign out your account id in Pubg New State. To login again you can choose the login option from the login page using "Facebook or Google" or as a "Guest User".
If you are facing any issue or problem in signing out or login in Pubg New State, then let us know in the comments below.
Read More – How to Buy Survivor Pass in Pubg New State