---
---
If you are new to Battlegrounds Mobile India, earlier known as Pubg Mobile Global version, you might face some issues using the game settings and tools. Well, if you want to communicate with one of your friends in the game using text messages while he is in the match or in idle in the lobby, then here is the guide to send messages to your friends in the Pubg Mobile or BGMI.
If your friend is in the game for about 28 minutes and gonna get the chicken dinner, then congrats first, and you wanna play with him in the next one. But wants to tell him that you are waiting for him in the lobby sitting idle. Then sending a text message will navigate your thoughts to the friends and he can respond whether he gonna play more matches or just going to sleep.
How to Message in Pubg Mobile-BGMI
Here's how to send text messages in the Pubg Mobile or Battlegrounds Mobile India game.
Open the friend list on the game and click on the friend's name to whom you want to message.
Then from the side menu click on "start a chat".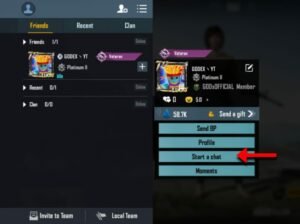 It will now open a message menu where you can type on the text bar. Type something you want to click "send".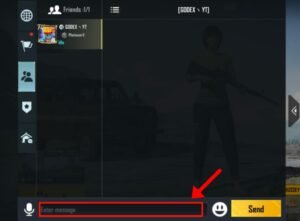 You can also send emojis by tapping on the emoji icon beside send button. Choose an emoji and it will reflect some text on the text bar, but don't worry your friend gonna see the emoji in his text box.
Once your friend reads the text message you sent, he gonna reply from the match itself. You will receive and notification and can see the sent message in the message menu.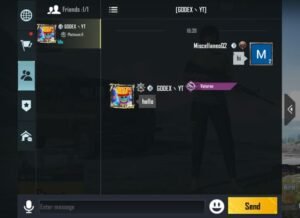 Read More – How to Send World Chat in Pubg Mobile-Bgmi
How to Delete Sent Message in Pubg Mobile-Bgmi
No, Pubg Mobile or Battlegrounds Mobile India does not offer the player to delete sent messages to their friends. 'Sent messages' can not be deleted in Pubg Mobile.