---
---
Battlegrounds Mobile India's latest 2.1 update is here. Users can now download the BGMI 2.1 apk for their android phones and install it manually. Here, the player will get the download link of the latest BGMI 2.1 apk for Android phones.
What's New in BGMI 2.1
BGMI 2.1 updates come with great and awesome new changes and features. It will have new weapon skins, gun skins, outfits, royal passes, emotes, and more. The 2.1 updates will also have two new royale passes that will appear after some days of the arrival of the update and will stay for 1 month each.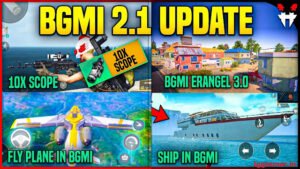 Download BGMI 2.1 APK For Android
The BGMI developers don't provide apk like Pubg Mobile which can be downloaded and installed on any android device, from where users can download the game data of about 1 GB to play the game and update it. But we have managed to get the small original apk of the BGMI which is about 100 MB in size and can be installed on any android phone, please read how to install guide below to perfectly install and play the game.
Download BGMI 2.1 Apk (Media Fire)
Alternate 2.1 BGMI Apk Download Link
How to Install BGMI Via Apk
To install Battlegrounds Mobile India's latest update on your android phone. It is recommended to uninstall the old version of Battlegrounds Mobile India.
Step 1. Download the BGMI 2.1 Apk from the above download link.
Step 2. Now install the apk file on your Android phone.
Step 3. After installing the apk file, open it.
Step 4. On the first time opening, it may show you the download error. The user will need to connect their android phone with a wifi connection (must needed) so that the game can download the game data files.
Step 5. After downloading the game data, users will need to restart their game to continue playing it after logging.
In case the user faces some problem while installing, he can refer to comments and leave their thoughts there.