---
---
Want to restrict someone from your Instagram profile so that they will no longer be visible to the other users publicly. Or say banning them on Instagram to show the interactions that they are doing on your account. Here are the steps to restrict someone on Instagram.
Restriction on Instagram
The restriction is the new feature that is introduced to reduce bullying on Instagram. If a user continuously bulling you on Instagram with negative comments or bullying you through various interaction mediums on Instagram, then restricting them will help you.
Restriction is just like blocking someone from your profile, but it is slightly different. The restriction will hide the restricted user from anywhere on your profile such as posts, reels, videos without getting the person to know that you have restricted them.
Related – What Happens After Restricting a Person on Instagram
How to Restrict on Instagram
The user can restrict any person from his/her Instagram profile, whether the other user is their follower or not. Here's how to restrict anyone on your Instagram profile.
1. Open the profile of the user whom you want to restrict from your profile.
2. Now click on the three dots on the right top.
3. Then tap on "restrict" and it will show you the popup saying the condition of the restriction, dismiss it.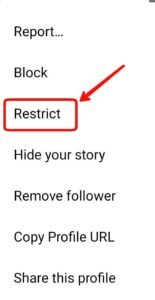 Image 2: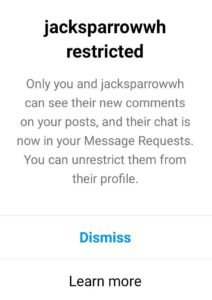 And now the person is being restricted, the status is showing just below the name of the person.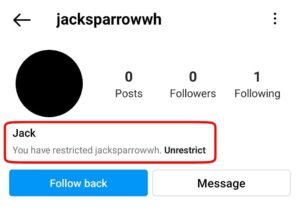 After restricting the person, any interaction (likes, comments, reactions) that the person is doing on your Instagram profile's post, reels, videos, and other media will not be shown publicly to the other users.
Note – After restricting a person, don't visit their profile again from your account otherwise the person will get unrestricted automatically (sometimes).
Restrict a User in Instagram on iPhone or iPad
1. Go to the user profile whom you want to restrict on Instagram.
2. Now click on the three dots at the top-right.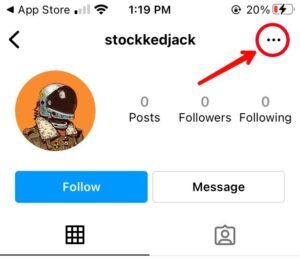 3. Click on the "restrict" from the popup.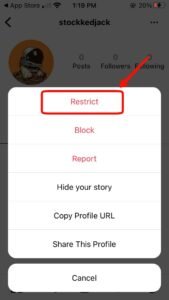 4. Confirm the restriction by clicking on the restrict account.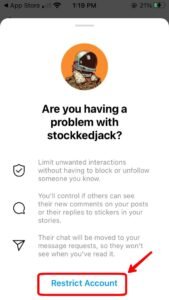 5. Now the user is being restricted on Instagram successfully.
The status of the account restriction is visible just below the user profile name.
How to Unrestrict
The restricted account will be restricted until the user won't un-restrict his/her account from their account. Users can un-restrict the restricted account directly by jumping to the user account. And if the status bar is showing there tap on unrestrict to unrestrict the user.
But most of the time that restriction bar is not visible. In that case, click on the three dots and then tap on unrestrict option to unrestrict the user. You can also un-restrict the user from the privacy settings of your Instagram account. Read detailed guide to unrestrict someone on Instagram here.
Read More – How to Know if Someone Restricted You on Instagram