---
---
One handed mode is really handy when you have a big phone, and when you can use it from both of your hands. This post is a guide to use the one hand mode on the OnePlus phones.
OnePlus phone come with the oxygen OS, which is really well known for its customization options with stock android feel. But you may be surprised when you hear that it does not have the one hand mode feature.
Well, fortunately we have figured it out that how you can use the one handed mode on any OnePlus phone or on any other phone which does not have the one handed mode option in the settings.
How to use one hand mode on OnePlus phones
OnePlus Oxygen os have not one handed mode option. To use the one hand feature on the OnePlus phones, user must have to install a third party application named Reachability Cursor, which actually does not give you the one hand mode, but can help the user to use your device with one hand.
Install, the "Reachability Cursor" app from playstore.
Open it and allow the permissions. Now manage the trigger points for the cursor. You can also manage them to be at left or right edge of your phone's screen.
Once fixed, you can now long-tap at the edge to use the cursor, which can be used to click on any option.
For more functionalities like a swipe or long tap to open more options get the pro version of the app.
For OnePlus Phone Running OxygenOS 12
The Oxygen OS 12 brings a lot of new features to the OnePlus devices thanks to the merger of Oneplus's Oxygen OS and Oppo's Color OS. The one-handed mode is now available in the system settings on the OnePlus phone with OxygenOS.
The user will need to turn on one-handed mode from the settings in order to use it. To enable one-handed mode on OxygenOS 12 (OnePlus) follow the below steps:
Go to phone settings.
Scroll down to the bottom and tap on system settings.

There you will find the one-handed mode option, which will be disabled by default.

Click on the one-handed mode option, and toggle it on.

Now the one-handed mode is enabled on your OnePlus phone, you will just need to use a swipe gesture to switch to the one-handed mode.
To Switch to One-Handed Mode:
Swipe the navigation bar downside.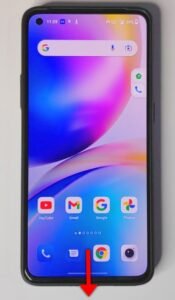 Read More –