---
---
If you are a OnePlus user, then you might suffer to open the notification panel by swiping down on the launcher home. Well, the swipe-down gesture or action can be modified and you can set it to open the notification panel.
Opening the notification panel from the swipe down on the launcher home is convenient when one is using the phone from one hand. But by default, the OnePlus phone's launcher is set to open the shelf which shows you the weather, recent activities, and other information for the swipe down action.
Read More – How to Delete App Cache on OnePlus Phone
How to Set Swipe Down to Open Notification Panel on OnePlus
Tap and hold on to the OnePlus launcher home, and click on "home settings".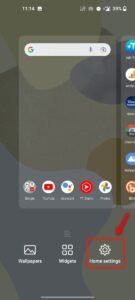 Now tap on the "swipe down to access" option.
Now choose the 'notification & quick settings' option and click save.
That's it, now when you swipe down on your launcher home screen it will open the notification panel instead of the shelf.
Read More – How to Hide Apps on OnePlus