---
---
Valorant has multiple agents to play with, few of them are unlocked before the player start to play the game for the first time and a few of them are locked and the player needs to unlock them first in order to play with them. This post is a guide on how you can unlock agents/characters faster in Valorant?
Below are the agents who are pre-unlocked and locked in Valorant.
Pre-Unlocked agents in Valorant :
Brimstone
Breach
Sova
Sage
Jett
Phoenix
Locked agents in Valorant :
Raze
Reyna
Cypher
Omen
Astra
Skye
Viper
Killjoy
Yoru
How to unlock the locked agents in Valorant?
The player needs to unlock some agents before he wants to play with them by choosing their agents before entering the game. Players can unlock these agents by playing the game with the pre-unlocked agents in Valorant. By playing games you will get exp for every match at the end. You don't need to collect the exp manually, the game will automatically collect them and add them to your account, the exp is not visible anywhere, you can only see that how many exp you got after the match. The exps are some game points that you will receive after completing matches in Valorant. RELATED : How to change name in Valorant ?
How you can Unlock Agents Faster in Valorant?
To unlock agents faster in Valorant, you don't need to do any extra thing. What you have to do is just play the game a lot. But here are also some of the basic things that you can do to unlock character/agents faster in Valorant.
Play and win Unranked or Competetive – You have to play unranked and competitive matches a lot in order to get the agents faster. Unranked and competitive matches end long for about 40 Min. They also receive more exp after the match. The average exp for competitive and unranked matches is near about 5000-8000.
Play spike rush a lot – Spike rush is a 4-5 minutes long match, but the main benefit of playing spike rush is that you receive about 3000-4000 exp on winning the match. So, compared to competitive or unranked matches your will receive more exp per game n spike rush.
How to choose which agent to unlock first in Valorant ?
You can unlock one agent at a time, you can choose any agent that you want to unlock in the Valorant game. Open Valorant game>click on agent button at top-left>click activate after selecting the agent to unlock.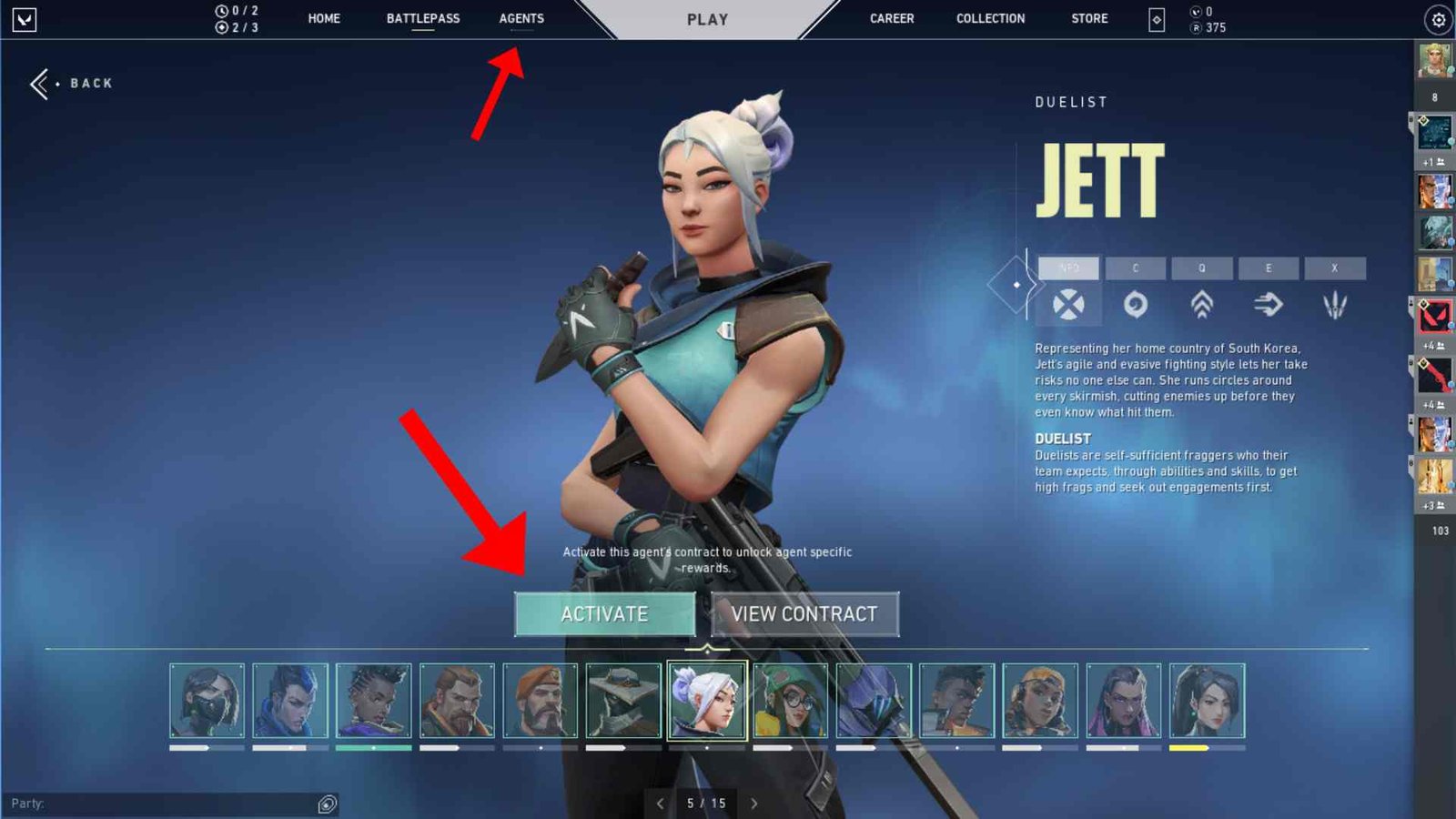 Also Read : Enable HRTF sound in Valorant?