---
---
We need to connect our smartphone to our pc or laptop as a storage device to share files or folders. But this feels weird when we need to do it a lot, as every time we need to configure our phone for a media transfer device (MTP) or as a storage device. In this article, we'll guide you to set the default connection type as a storage device so that you just plugin and use your phone storage directly without interacting with your phone.
USB Configuration
When we connect our phone to our computer we get a popup from where we choose it as a file transfer device or MTP. But by default, it is set to as a charging device. What if we can set the default configuration as a storage or file transfer device, so we don't need to change it again and again.
Now here, the functionality to change the default configuration as a storage device or any other is not available in all android phones but most smartphone companies are now providing this so, you can check for yours.
How to change default USB configuration on android phone
To change your default USB Configuration, you have to enable the developer options first on your phone (How to Enable Developer Options).
After enabling it, go to the developer options, and look for the "Default USB Configuration" option. This is basically found under the network section. If you are unable to find it, you can also use the search feature. Search for "Default USB Configuration".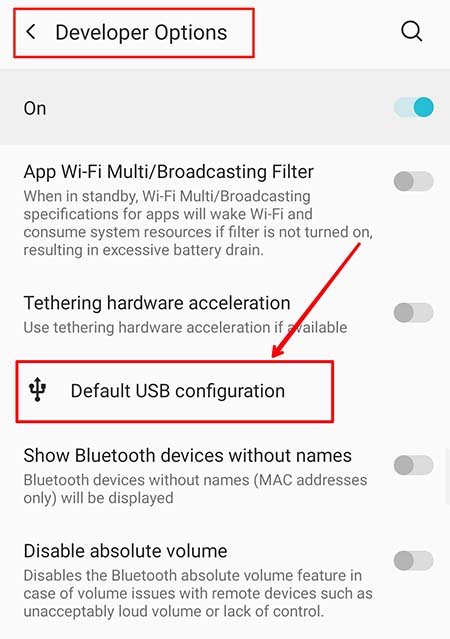 Once found, click on it and select an option that you want to use as default.
After choosing an option you can close the setting on your phone. And whenever you further connect your phone to your pc it will connect as what you set like a storage device or other as default. You will not need to select it again from the phone.