---
---
Sometimes users may need to create or backup a preinstalled app or say system app on their Android device, but if they are using the App Backup and Restore application to do so. They may find that system apps are not showing up there in the application. Well here are the solutions to fix it and show the system apps on the app backup and restore application.
App Backup and Restore is a well-known application backup app for Android. The app is simple to use and provides the user to take the backup and create an apk file of any application installed on their Android device. Users can make and save an apk file of any kind of application or game that is preinstalled or system app or whether they have installed it from a third party on their Android phone or tablet.
Later it is saved to the archived section in the app itself and can also be found in the file manager under the Apps_backup_reinstall folder, from where they can send it anywhere online or offline or transfer it to another device.
System App Not Showing in App Backup and Restore
Sometimes system app is not visible on the application because it is not allowed to show the system apps or is disabled from the app settings, here is how you can fix it.
Disabled From Settings
This is the common reason why the app is not showing the system apps, if that's the case then the user needs to enable the "Show System Apps" setting from the app setting.
Open the "App Backup and Restore" application on your device and click on the there bar, and go to settings.
Now check the "Show System Apps" option there to allow it to display the system apps. After enabling it, the app will now be the system app on the Installed section of the application page. From where user can now also take backup and create the apk file of the system app.
Allow "Files and Media Access "Permission From System Settings
Sometimes while installing the application, the user may ignore to allow the files and media access permission for the application. Well if that's the case then the user will need to manually allow the permission from the device settings. To do so follow the steps.
Long tap on the "Apps Backup and Restore" app icon, and go to the "app info" option.
Now click on the "Permissions".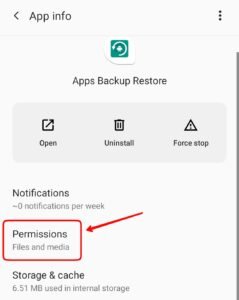 Then click on the "Files and Media" permission option there.
Now from there select the "allow management of all files" option, and close it. No need to save the settings will automatically get applied. Now the app backup and restore application will show the installed apps from the third party or play store along with system apps that come preinstalled with the device.
Read More –