---
---
So, you have installed the Netspeedmeter software on your Windows PC/laptop and noticed that it's not working and not showing the internet speed on the taskbar, though it is showing the tool but not the measurement. Then you are at the right place, here we'll be discussing the reason why it may not work and how you can fix it.
Reasons Why NetSpeedMeter Not Showing Internet Speed and Their Fixes
There are various reasons why the NetSpeedMeter is not measuring the Internet speed or not showing network speed on the taskbar in your Windows device.
Irrelevant Network Interface
The different device has different network module and for which, a particular driver is needed to work well with it.
Fix
The "Network Interface" option is present under the "configuration" option in the app itself. Users can access it through the taskbar tool of the Netspeed meter application.
To fix and make the Netspeedmeter work on your Windows computer, right-click over the netspeedmeter tool showing on the taskbar and go to the configuration option.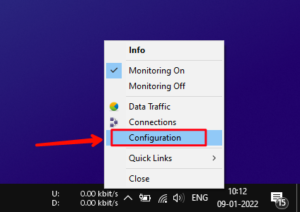 Now they're under the Network Interface dropdown menu, select the driver that is installed on your computer. If you have no idea which driver or network module is installed on your Windows PC or laptop. Then select them one by one and apply it and notice that which will work for you.
Mostly "Intel Dual Band Wireless" module will work on the laptops and PC.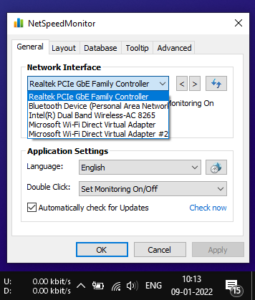 Read More – How to Set Live Wallpaper on Windows Computer