---
---
This is a very common problem for some computer manufactures like Asus, Dell, or computers with AMD Processors. In this post, we'll discuss the reasons for Fastboot Device not showing, Fastboot Device missing, FastBoot Device not detected or other fast boot connection problems or errors in Windows and how you can fix them easily.
FastBoot Device not Detected and more
Fastboot commands are used to detect the fast boot device connected to the computer. Using fastboot one can unlock the bootloader of a smartphone, can flash ROMS, and perform other tasks.
But sometimes for some devices, the bootloader does not work or it says unable to connect or gives errors like device not detected. Sometimes when you run a fastboot command it won't give any response. Well, all these problems are common and can be fixed. See below step by step guide to fix them.
Reasons and Fixes for Fastboot Device Not Showing or Detected
There are several brands of computers as well as mobile devices. So, it is very difficult for the computer itself to recognize the device perfectly of different brands. Here are the possible reasons and fixes of fastboot device not showing or not detecting.
1. Fastboot drivers not installed properly:
This is the most common reason for all these errors. You should have to install all the fastboot drivers carefully. You can read our guide to install fastboot drivers. If you have done it properly you can jump to the next reason.
Reinstall Fastboot Driver
If the reason is improper installation or corrupted drivers then reinstalling the fastboot drivers will help.
2. Device Drivers Missing
This is the main and common reason why you could be facing the issue. Sometimes the fastboot drivers do not detect the particular phone models or brands. In this case, follow the steps to install fastboot drivers according to your device.
Connect your Android device in fastboot mode to your computer.
Now open the "device manager" on your computer by using windows search for device manager.
A new page will appear showing all installed software on your Windows computer.
A device is shown as "Android Phone", click on it and then right-click on "Android Bootloader Interface" and go-to "update driver".
Now a new popup window will appear, click on the "browser my computer for drivers" option.
After that, a new window will appear, click on "let me pick from a list of available drivers on my computer" and click next.
Now on the next window, you will see a page like the below image. Untick the "Show compatible hardware" option.
A new bunch of options will appear, now double-click on your phone manufacture brand and then double-click the "android bootloader interface" option from the right side.
Image : 1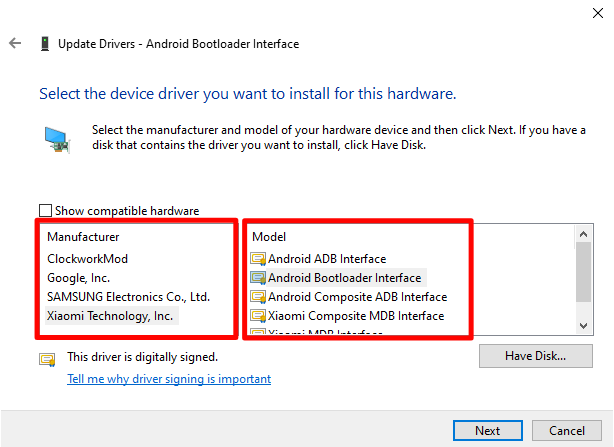 Image : 2
It will now install the fastboot driver according to your device manufacturer. This will fix the above-mentioned fastboot device not detecting or not working issues on your computer.
Note – If after doing all these steps, your phone in fastboot mode still not detecting on computer or showing '??????', then unfortunately there is no way you can fix it. That's not a software problem, it's a hardware compatibility issue and there are no fixes available till now. You can try connecting to another PC (a friend's one) in the fastboot mode.
In case if the solution provided won't help you and fix the problems, then please let us know in the comments below.