---
---
Clubhouse notifications may be a headache or irritating as there is someone always creating rooms and joining the chats. The Clubhouse also gives notification when some of your friends come online and joins a room. We'll take a look at the notification settings of the Clubhouse social media application.
Clubhouse Notifications
Clubhouse push notification regarding various actions when someone starts a room whom you follow, backchannel messages, waves, trends, and other followers and events notifications. These notifications can be useful for the user as well as sometimes maybe not.
Well, if the user won't want some of these notifications to appear on their phone, then Clubhouse has different settings that users can toggle on to avoid unwanted notifications or get the only notification that can be important for the user.
To Change Notification Settings on Clubhouse
Click on the profile icon on the top-right side.

Then click on the setting icon.

Now go to the notification settings option.

From there you have four options, turn on the options that you want to get notification from.
This will push notifications regarding starting a room, some of your followers or followings speak and others regarding the Clubhouse room you might join.
This will push notifications when someone messages you in the backchannel or waves.
This will push notification regarding the rooms, that Clubhouse AI might prefer your interest in.
This will push notifications when someone follows you, someone schedules an event, etc.
How to Turn Off Clubhouse Notifications
If the user doesn't want to get interrupted by the Clubhouse notification then turning them off will be the best option.
From the settings the user can toggle on the 'pause notifications' setting to pause or turn off the notification from a particular time period, like for an hour, till evening, till morning, or for a week. After that time the notification will again appear.
Turn Off Clubhouse Notifications Permanently
If the user wants to disable the Clubhouse notifications permanently then consider turning them off from the system settings. Here's how.
Long tap on the Clubhouse app icon,, and go to app info.

Now tap on notifications settings.

From there toggle off the notification options to disable all the notifications from the Clubhouse app.

You can also toggle off particular notification options from down there to turn off notifications related to the particular actions.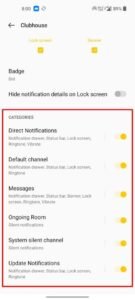 If you follow a lot of people on Clubhouse, then you will keep getting notifications of their actions on your phone. Just do some notification settings from the app or from your phone settings and you can get only interested notifies.
Read More – How to Change Name in Clubhouse