---
---
Users can only use one account at a time on WhatsApp, but if the user wants to change or use multiple accounts on WhatsApp. To change an account on WhatsApp, the user should need to logout. In this post, we'll take a look at how to log out from WhatsApp on phones.
Logout in WhatsApp
Though the logout button in WhatsApp application UI is not available directly to access the user. Though users can still change the account by clearing the cache and data of the WhatsApp app on their phones. Below is a details guide to doing that.
How to Logout in WhatsApp
The user will need to delete/clear the WhatsApp cache and data in order to log out from WhatsApp.
1. Long tap on the WhatsApp app, and tap on app info.
2. Then tap on the manage storage option.
3. Now from there tap on clear storage to delete the storage data of WhatsApp and clear cache to delete WhatsApp cache files.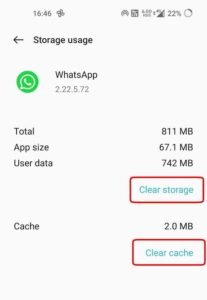 4. Once you cleared the WhatsApp data and cache, you will see a login page asking phone number after opening WhatsApp.
Clearing data and cache will delete all WhatsApp account data from your phone including all photos, videos, and other files.
We recommend moving all WhatsApp files to your other devices to make sure you don't lose anything important.
Or you can read this post to learn more about how you can save your data while deleting WhatsApp data and cache to log out of it.
Read More – How to Use WhatsApp on PC