---
---
ou may have heard of resetting, which generally is used to perform a factory reset. But do you know that you can also reset system settings only on your OnePlus phone? Yes, that's actually possible and in this post, we'll take a look at how you can reset systems settings on your OnePlus phone.
Reset Settings (OnePlus)
Resetting system settings allows users to get the older settings that they get at the purchase. This will reset all the settings including networks, Wifi, Bluetooth, personalization, display, notifications & status bar, privacy, and other settings.
Resetting system settings will not wipe the storage on your phone and does not delete the user data. It will also help the user to fix any setting-related issue that the user has made by mistakes.
Reset System Settings on OnePlus Phone
To reset system settings on your OnePlus phone, follow the below steps.
1. Open phone settings.
2. Go to system settings.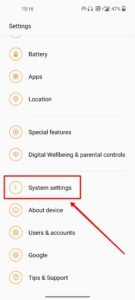 3. Scroll to the bottom and tap on 'backup and reset'.
4. Now tap on 'reset phone'.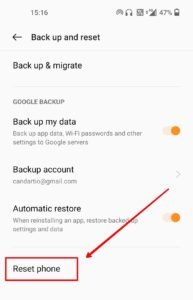 5. Now tap on 'reset system settings only'.
6. Then confirm your password or pattern, and tap on reset system settings.
That's it, the phone settings will get reset instant no reboot is needed. This way you can reset your OnePlus phone settings. You can also reset network settings only using the reset network settings option.
Read More – How to Delete App Cache on OnePlus