---
---
If you are an Android enthusiast then you might want to see your mobile phone's screen refresh rate? And what it is pushing out for any application? Well, it is actually possible in the OnePlus phone without installing any third-party application or connecting to a PC or laptop. In this post, we'll give you complete information about the FPS meter available on Oxygen OS in OnePlus Phones. We'll also take a look at how and when you can use it and what are its limitations.
Oxygen OS has great customization options we all know that. Apart from this it also has some features that require root for other brands. Which abruptly makes it one of the best user-friendly, close to stock Android, and most customizable OS or UI.
Screen Refresh Rate or FPS Meter
These two things are not exactly the same but can say nearly the same. Screen Refresh Rate is the normal refresh rate of a display that is fixed and does not give us real-time data. But the FPS meter gives real-time data.
This article is a guide to enable and show screen refresh rates on any OnePlus Phones.
How to Enable Screen Refresh Rate on OnePlus
Oxygen OS has a developer option that has an option to enable and show the screen refresh rate. Turn this option will show the refresh rate of the mobile phone display. This will show what application is running at what frame rate. Hers's how to enable it.
Open phone settings, scroll download, and go to the "About Phone" Option.
Now click on the Build Number 7-8 times to enable the developer options on your OnePlus phone.
Once the developer options are enabled, you will see a small notification popup saying "you are now a developer".
Now go to the "System" option just above the "About Phone". There you will see a new option as "Developer Option", tap it.
Now you can use the developer options there, to show the screen refresh rate. Scroll down and find "Show Screen Refresh Rate". Turn it on and you will see the screen refresh rate on your phone at top-left corner.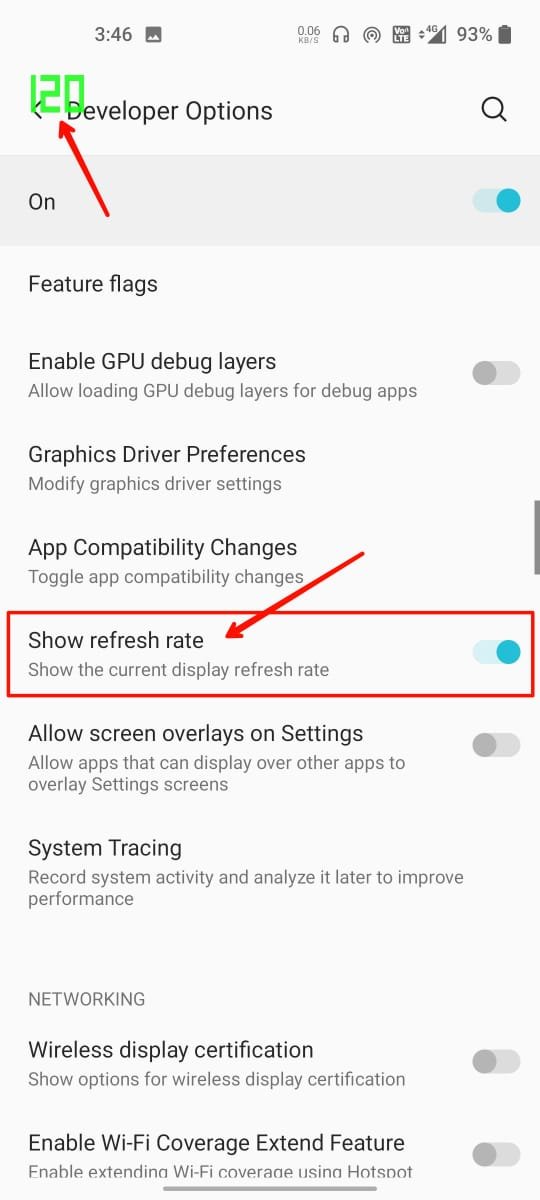 Limitations : 
This Show Refresh Rate option in OnePlus phones does not show the live or real-time FPS of your screen. It only shows the refresh rate of an application. So this cannot be used as an FPS meter to check the FPS while gaming.