---
---
The battery percentage is important when it comes to knowing how much more you can use your phone. It also helps to maintain your phone's battery health. Here's how you can enable and display battery percentage on any of your OnePlus phones.
How to Show Battery percentage on OnePlus
Open phone settings.
Go to the notification & status bar option.
Now from there toggle on the Battery percentage option.
That's it, now the battery percentage will be visible on your phone's status bar. ANd you can also see it at the ambient screen if your phone has an AMOLED display.
Battery Style
You can also manage and change how the battery icon will be shown on the status bar. Tap on the battery style option and choose any of the options there including 'loop' & 'vertical'. Those will show batteries in different styles as shown below.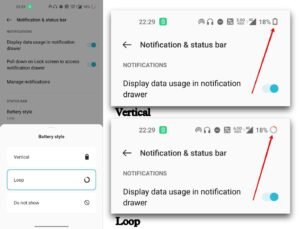 Read More –  How to Disable Shelf on OnePlus