---
---
For Android enthusiasts, icon packs are one of the main customization objects that one wants to apply on their phone. And if you are a OnePlus user then in this post we'll take a look at how to apply third-party icon packs on a OnePlus (OxygenOS) device.
A third-party icons pack can match the overall setup of your home screen and launcher screen. That's why most people use them, the customization features provided by a third-party icon pack are also quite useful. And they also refresh the feel of the device.
Install Icon Packs on OnePlus
There are several icon packs available to download and install on the play store. You can search for the "icon pack" to find various icon packs on the play store and download some of them you like. Later to apply the icon pack you can read below.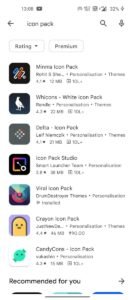 How to Apply Third Party Icon Packs on OnePlus
The steps are quite simple to change the icon pack on a OnePlus phone. Follow the below steps.
Long tap on your phone's launcher screen.
Then tap on the 'icons' option.

Now swipe left the icon style tab and you will see all the installed (third-party) icon packs on your device.
Just tap on any and click apply to change the icon pack on your phone.

That's it, the icon pack is now applied. You can now go back and enjoy the new icon pack.
Read More – How to Get Rounded Circle Icons Like OxygenOS 11 on OxygenOS 12 Without Icon Pack