---
---
Windows 11 is the latest version of Windows that has been released in October 2021. Users who want to upgrade from any version of Windows to the latest Windows 11 can download an ISO file, and boot it into your computer, In this post, we will take a look at how you can download an ISO file of Windows 11 Officially through Microsoft site.
Windows 11 ISO
An ISO file is a complete disk image that is used to share and transfer large software like games, applications, and Windows. For every Windows version, Microsoft releases an ISO file that can be used to install fresh Windows on any computer system. Windows 11 can also be installed via an ISO file on any computer.
But before that, you have to download an ISO Image File, below is the guide to download Windows 11 ISO officially using the Microsoft link. Windows 11 ISO file size is about 5.5 GB. The ISO file can be opened and we need to run the "setup" named application to start the Windows 11 installation.
After running it, a loading popup will appear which will show the percentage on the screen, let it load the installation page.
Once the installation page loads, you can now start installing windows 11 on your PC or laptop.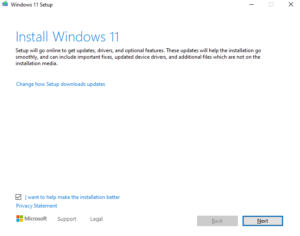 But before the Windows 11 installation. Let's take a look at how we can download Windows 11 ISO File officially from the Microsoft site.
How to Download Windows 11 ISO
Microsoft provides an ISO file of Windows 11 on the download section. You can visit the Microsoft Windows 11 ISO download page from here. And there you will get the page similar to the below image.
Now select the ISO file type "Windows 11" and click the "download" button.
Then select the language from the drop-down. Select your preferred language.
After that, click on the 64-bit button to download the ISO file, the ISO file will start downloading instantly after you click on the 64-bit button.
As soon as you click on the 64-bit button, the ISO file of Windows 11 will start to download on your computer storage. The download will take time to complete so wait for it and relax. After the download completes, you can start installing it by opening and running the "setup" executable file from there. You can follow the guide on Windows 11 installation from here.