---
---
People considered Widevine L1 support for Netflix or other OTT platforms before buying a new phone. It is important for the media consumer users a lot, the presence of Widevine L1 shows the ability of the device that it can play media playbacks in Full HD quality. Well, in this post we'll take a look at how you can check out the support for Widevine on your phone.
Widevine L1 is a security measure that protects the media and where media is decrypted and processed entirely in the Trusted Execution Environment (TEE). There are more two levels of the Widevine as L2 and L3. The devices that have only L2 or L3 level of protection can only play the media at 480p or 540p respectively.
Widevine L1 – Highest level of protection – Up to 1080p
Widevine L2 – Lower than L1 – Up to 540p
Widevine L3 – Lower than L2 – Up to 480p
Now the question that arises here is how someone can check the Widevine L1, L2, or L3 support for a device or how to know the Widevine version on your device.
How to Check Widevine Version for Your Phone
So to check the Wdevine security level on your android phone, the user will need to install the "DRM Info" application from the Play Store. This application gives you information about the Digital Right Management module from Android Media Framework and MediaDRM API.
Widevine version checking through this app can be helpful in case where you are planning to buy Netflix or other OTT platforms services and wanna know that what plan will be best for you and what quality you can enjoy for the media.
To check the Widevine version
Install and open the DRM Info app on your phone.
A page with the device information will load telling you the exact name of your device model and other information, scroll all the way down to find the Widevine data for your phone. Here you will get the vendor, version, HDCP level, ID, security level, and other data regarding Widevine. But the main one that we are here for is the security level.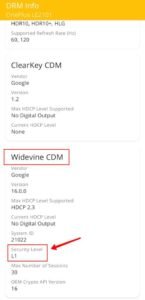 If the security level is L1, means you can watch OTT media on the max up to 1080p quality, L2 means max up to 540p and L3 is the lowest that can play media up to 480p quality.
How to Check Widevine version on Netflix
Well, if you are already using an OTT platform such as Netflix, Disney or others. You can also check the Widevine version in the app too. Here's how.
Open the Netflix app on your phone, then click on the profile icon on the top-right side.
Then go to "app settings".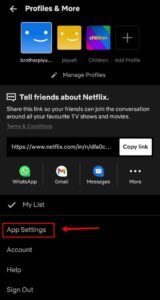 Now click on "playback specification".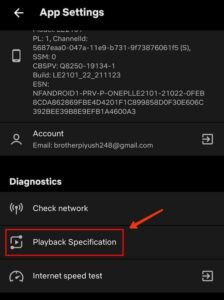 There you will get the Widevine version currently available for your phone.
Widevine version can be upgraded on a device through android or system update, but for some devices, it is limited and can not be upgraded in any way.