---
---
We all use Chrome to surf the Internet, and sometimes we need to make a duplicate tab of the current tab we are working on. In this article, we'll be talking all about duplication of the tab in Chrome using manual options and with the shortcut.
Google Chrome has a lot of features and shortcuts to do several things, but only a few of them are known. There is too much to explore. The duplicating tab is a great feature that we can use in several conditions. The duplicating tab opens a new tab of the similar link that we are on.
How to Duplicate Tab in Chrome
The duplicate option in Chrome is available in the right-click menu, and that can also be done with the shortcut. The duplicate option opens the new tab in the same Chrome Window.
Creating a duplicating tab in Chome can be done in two ways either by the right-click menu or by the shortcut that we are disclosing here.
Duplicate Tap in Chrome with Right-Click Menu
Open the Chrome app and start using the Internet as usual, now to duplicate the tab right-click on the tab you want to duplicate, and then click on the "duplicate" button.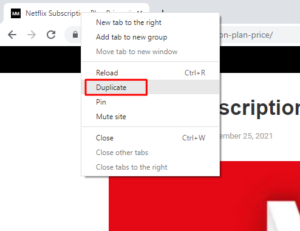 After clicking duplicate, it will instantly open a new tab in the same Chrome window.
Duplicate Tab in Chrome with Shortcut
Well, there is a shortcut available to duplicate tab in the Google Chrome web browser. But the shortcut is not a key combination, it's different and I have recently found it while surfing the Internet. Here's how to do it.
We can duplicate the tab using the mouse's central wheel key (button).  So what we have to do is, just hover the mouse pointer to the reload button.
Now click with the mouse's center wheel button. After that, the tab will be duplicated as normal.
This is how the tab can be duplicated in Google Chrome with the shortcut too. For further queries leave a comment below.