---
---
Sharing is caring. If you want to share a Clubhouse room with your friend, then you can do it. You can copy a Clubhouse room link and share it with anyone on their social media profiles via a text message or other mediums.
If you like a room and want to share it with your friend or family, well Clubhouse has that feature now which allows the user to share a Clubhouse room. And that's simple to share which is the inbuilt feature. Here's how.
How to Share Clubhouse Room
Join a Clubhouse room.
Now tap on the three-dot horizontal menu.

Now from the new popup scroll down a little bit, and tap on the "share room" option.

From there you can share the link to various options including Clubhouse and other social media platforms.

This option will share the Clubhouse room link on your Clubhouse profile. Other users will see it as a post on your account.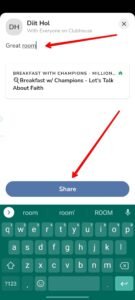 This option lets you share the Clubhouse room on other social media.
This option will let you copy the Clubhouse room. Using this you can share the room with anyone on any social media platform via text or post.
This option will let you share the room link with your Clubhouse friends who are online at the time. Using your invitation, your Clubhouse friend can join the room.