---
---
Want to log out of your Apex Legends Mobile account on your phone. Here's the guide to log out in Apex Legends Mobile.
How to LogOut in Apex Legends Mobile
1. From the game lobby, tap on Settings at the bottom right.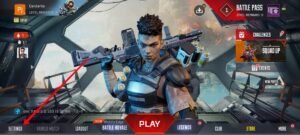 2. Now tap on the log out button at the top to log out from your account in Apex Legends.
After logging out from your account, you will be redirected to the login page from where you can log in again with the same or another account.
Read More – How to Know Your Apex Legends Mobile Account ID and Username